sources:https://news.dayoo.com/guangzhou/202209/25/139995_54364219.htm
The 18 projects focus on the development and application of automatic driving and intelligent shipping technology, and carry out pilot demonstrations for road cargo transportation, urban travel and logistics distribution, port transportation and terminal container transportation, coastal and inland river intelligent navigation, etc., and explore solutions for the deep integration of new generation of information technology and transportation.
Among them, the Guangzhou Urban Travel Service Autonomous Driving Pilot Application Pilot Project (hereinafter referred to as the "Pilot Project") was selected.
According to the announcement, the pilot project will invest 50 self-driving buses on the Guangzhou Tower Ring Road and the Bio Island Ring Road from August 2022 to December 2023, with a cumulative service of not less than 1 million passengers.
Invest 210 autonomous passenger cars in the Guangzhou Artificial Intelligence and Digital Economy Pilot Zone, with a cumulative service of not less than 300,000 passengers, a running mileage of not less than 4 million kilometers, and a running length of not less than 200,000 hours.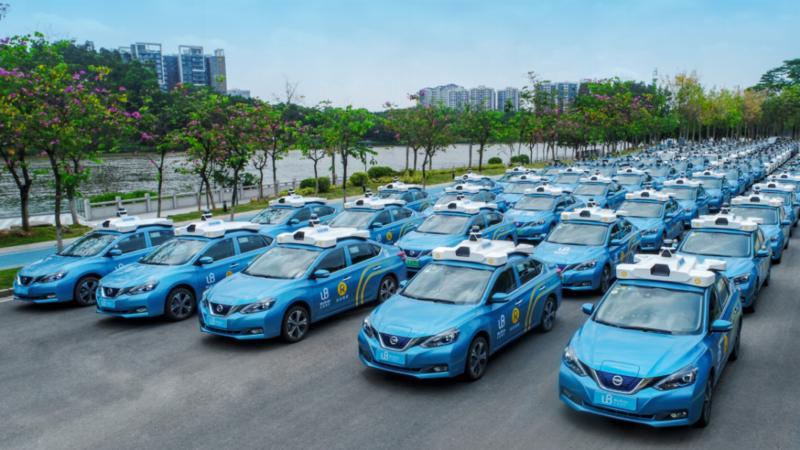 Weride taxi
The public can choose two lines to experience for free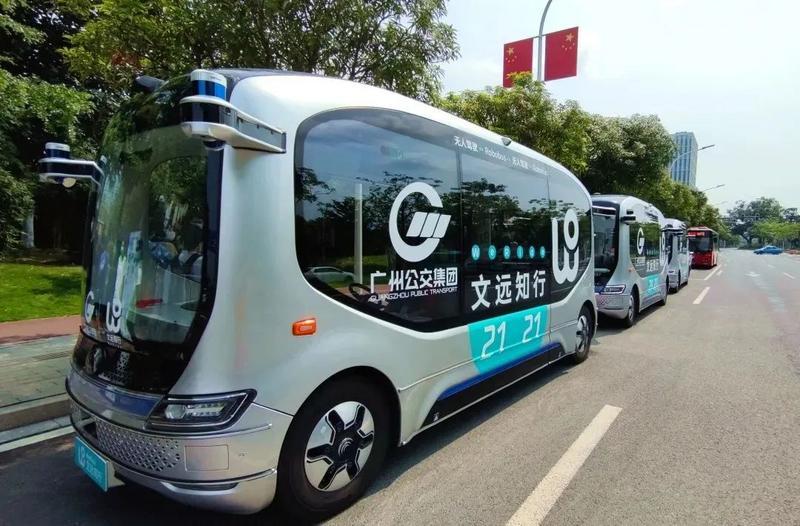 At the end of April this year, Guangzhou has opened an automatic driving convenience line, and citizens can take self-driving buses in Canton Tower and Bio Island. At present, citizens can make a free reservation to purchase tickets through the WeChat Mini Program ("Smart Bus") and to have the automatic riding experience.
Vehicles can be automatically stopped with courtesy and red lights
Autonomous vehicles have 7 seats, take the "high-speed rail ticket" mode, that is, there are spare seats on the car passengers can successfully make reservations.The vehicle runs smoothly, can automatically turn, and automatically stops when the red light is on... Just like a manned vehicle on the road, the vehicle will also judge other vehicles on the road, and can maintain an appropriate distance.
The first report of the Guangzhou International Bio Island unmanned sanitation vehicle was announced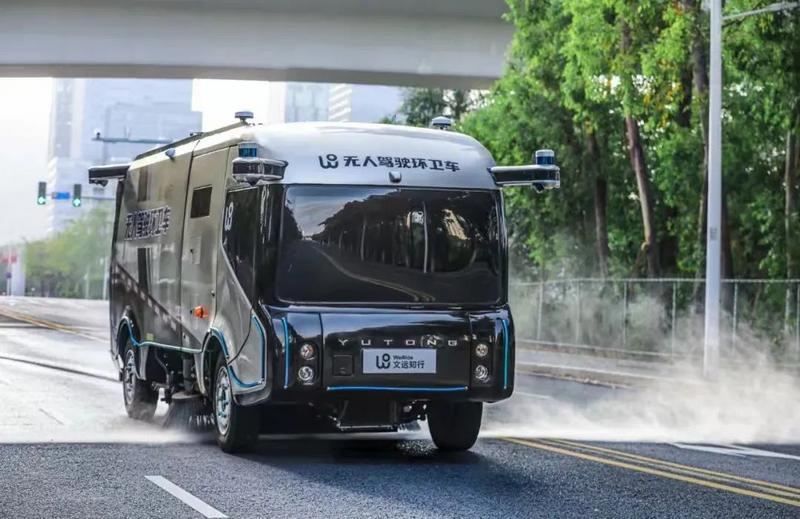 unmanned sanitation vehicle from Weride
Automatic driving, intelligent cleaning, but also able to automatically charge, add water, parking...
Since September 1, the fully unmanned sanitation vehicle in the trial operation of Guangzhou International Bio Island has announced the first report:
the daily operation time starts from 0:00 to 19:00, and the sanitation operation is carried out continuously 7 days a week, and the autonomous driving mileage has exceeded 4600 kilometers in 20 days.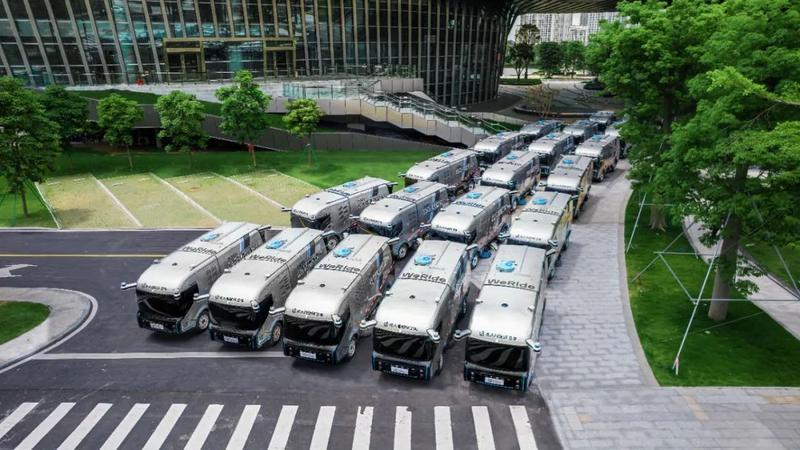 unmanned sanitation vechicle fleet from weride
These sanitation vehicles do not have a steering wheel, accelerator, brake pedal; The vehicle is fully electric, in the unmanned mode, it can carry out a variety of urban sanitation operations such as road cleaning, sprinkling water and dust, spraying sanitize, etc., and has the function of spraying sanitize to achieve zero contact throughout the whole process to complete the sanitize of the designated area. The exclusive cloud control platform has become the command center and brain of smart sanitation, which can view the operation route, operation status and automatic driving status in real time.
In the future, Guangzhou will see more self-driving taxis, self-driving minibuses, autonomous freight vehicles, autonomous sanitation vehicles, etc. to provide citizens with a variety of services such as online car-hailing, on-demand buses, intelligent sanitation, and high-end intelligent driving.