As the international technology innovation hub of Guangzhou Province in China, Huangpu District and Guangzhou Development District are responding to the call for the China's national development strategy of "blockchain +". For instance: in finance, logistics, government affairs, intellectual property, industrial Internet, etc., the in-depth integration of blockchain technology with various fields of the traditional economy has been continuously enhanced to build a new engine for high-quality economic development.

image souce:https://news.8btc.com/guangzhou-inputs-200-million-yuan-to-boost-the-development-of-blockchain-industry
At present, Guangzhou has cultivated four major carriers including Guangzhou Blockchain International Innovation Center, Huangpu Chain Valley, Yimi Blockchain Maker Space, and Blockchain Future Space, basically forming an industrial cluster of the entire blockchain industry chain. The value of the blockchain is not in speculation, but in solving social problems and serving the economy. Therefore, there are two main directions for the blockchain to adress with, one is to solve the pain points of people's livelihood, and the other is to support the real economy.
At present, blockchain electronic bills, blockchain electronic invoices, blockchain electronic prescriptions, and blockchain insurance claims have been piloted in cities across the country.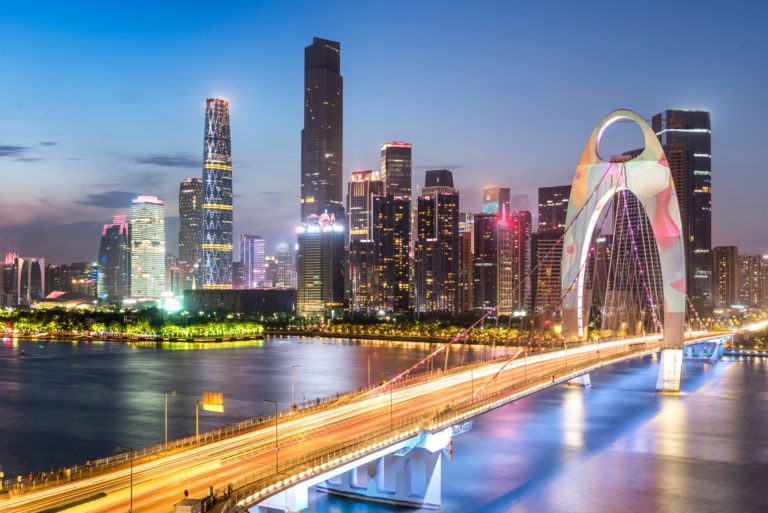 The roadmap of Guangzhou blockchain development:
In July 2017, Guangzhou Blockchain Industry Association, the first blockchain industry association in Guangdong Province, was officially established.
In March 2018, Guangzhou Huangpu District and Guangzhou Development Zone were officially approved to build the first Chinese software famous city demonstration zone featuring blockchain. This is the third Chinese software famous city demonstration area in China after Shanghai Zhangjiang and Nanjing Yuhuatai.
From 2018 to 2020, pilot applications in various fields were accelerated in the large-scale industrial implementation of blockchain technology, and actively guide industry backbone enterprises to choose medical and health care, supply chain management, product traceability and anti-counterfeiting, network collaborative manufacturing, copyright protection and trading, and electronic evidence storage. Industrialized applications in areas with mature conditions such as licenses.
In 2022,Guangzhou believes it will become a digital yuan testbed and a blockchain innovation application pilot center.
In recent years, the number of blockchain-related enterprises in China has grown significantly, and the market size has continued to expand. According to the report of the China Business Intelligence Bureau, the compound annual growth rate of China's blockchain market is 87.58%, and it is expected to reach 1.409 billion yuan in 2022.
As of July this year, in Guangdong Province alone, there were 50,041 companies with "blockchain" in their name and business scope. At the same time, the blockchain talent gap continues to expand. A world-renowned consulting agency predicts that in the next five years, China's blockchain talent gap will exceed 750,000.
Just in this July,Guangdong Province is carrying out the theoretical knowledge and skills assessment of blockchain application operators (level 4) to solve the shortage of blockchain technical talents.
Blockchain is under the spotlight on China's "two session", Guangzhou local government seeks to boost the development of blockchain industry. Guangzhou believes our city will become a digital yuan testbed and a blockchain innovation application pilot center in 2022.
More relevant content sources:
https://news.8btc.com/guangzhou-inputs-200-million-yuan-to-boost-the-development-of-blockchain-industry
https://forkast.news/headlines/digital-yuan-guangzhou-blockchain-pilots/
http://www.gz.gov.cn/ysgz/jyzc/cxgd/content/post_6425493.html
https://news.dayoo.com/guangdong/202207/19/139996_54311604.htm