Source: Chinadaily.com.cn
Nansha district witnessed strong economic growth over 2016-20, with several major indices posting double-digit growth, official statistics showed.Its industrial output value hit roughly 350 billion yuan in 2021, up 11.1 percent year-on-year, according to government data.
Of all the industries, carmakers generated more than 150 billion yuan in output. The new energy vehicle industrial cluster, led by GAC Toyota, a joint venture between Guangzhou Automobile Group and Toyota; and two Chinese companies Hycan and WM Motor, is growing rapidly.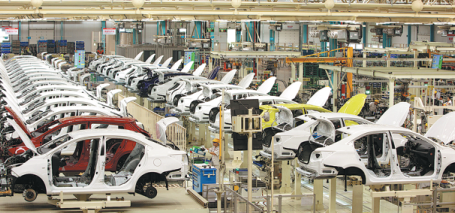 Bodyshells lined up in the production plant of GAC Toyota in Nansha. CHINA DAILY

The emerging industry has taken shape in Nansha. There are about 620 companies engaged in AI and biotechnologies.
CloudWalk Technology, based in Nansha, is one of the largest AI suppliers in the financial industry in China. It was listed on the Shanghai Stock Exchange's sci-tech innovation board in May, the first in the AI category in China.
The aerospace industry is also seeing burgeoning development in Nansha. For example, CAS Space, a commercial aerospace company backed by the Chinese Academy of Sciences, is committed to the development of a new generation of reusable liquid launch vehicles and suborbital space tourism vehicles. It is building a solid rocket production base integrating research, production, experiments, assembly and testing, which is to be capable of producing 30 rocket products per year.
More than 6,600 financial or finance-related companies have settled in Nansha, including the Guangzhou Futures Exchange, which went into operation in June 2021.Official statistics showed that about one-fifth of the nation's financial leasing companies are in Nansha, making the district a hub for the leasing of airplanes and ships in South China.In addition, a batch of major projects, including a hypersonic wind tunnel and extreme marine scientific research facilities, are under construction in Nansha. Government figures indicated that 3.67 percent of local GDP has been used for R&D in Nansha.
Funds and talent
Nansha's modern industries are expecting a new takeoff. In mid-June, the State Council issued an overall plan for Nansha district to deepen comprehensive cooperation between Guangdong and the Hong Kong and Macao special administrative regions. It aims to build Nansha into an important platform for Hong Kong and Macao to better integrate into national overall development.
According to the mid-June plan, construction of a scientific and technological innovation industry cooperation base and a youth entrepreneurship and employment cooperation platform between Nansha and Hong Kong and Macao will be accelerated.
More importantly, the plan proposes three funding and tax incentives for Nansha, which can greatly boost investment and attract talent.
First, it will impose 15 percent corporate taxes on companies that belong to the district's encouraged industries in its launching areas as compared to generally 25 percent.
Second, companies in key high-tech industries will be allowed to prolong the periods of their carry-over of losses.
Third, residents of Hong Kong and Macao working in Nansha can enjoy a personal income tax rate the same as that of the special administrative regions where they hail from.
To assist industrial development, the district launched a new preferential policy that fuses together the incentives for innovation, industry, fund and talent. The move is the first among State-level new districts.
Nansha district government plans to pour more than 20 billion yuan into subsidies for research institutes, companies and talents.For example, the subsidy for research and development institutes and high-level professional teams could both reach up to 100 million yuan.
Young entrepreneurs from Hong Kong and Macao in Nansha could access rewards of up to 1 million yuan.
Companies that choose to settle in Nansha could get bonuses from the government in terms of corporate operation, executives' personal incomes and equity exercises once they are listed on a stock market.
Huang Xiangdong, president of Guangzhou Greater Bay Technology, said Nansha enjoys geographical advantages. Located at the geometric center of the Guangdong-Hong Kong-Macao Greater Bay Area, it boasts a strong innovative atmosphere and sound business environment.Founded in September 2020, Huang's business is a private high-tech company hatched by GAC to focus on the research and manufacture of fast-charging batteries. The battery the company makes was officially certified by the World Record Certification Authority in 2021. It takes just eight minutes to charge from 0 to 80 percent and five minutes from 30 percent to 80 percent.According to Huang, it took just six months for the company to complete the patent application to authorization. The battery system factory was built and put into operation in just five months.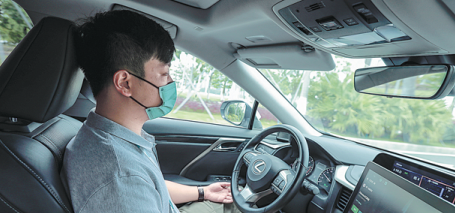 A staff member of self-driving technology company Pony.ai conducts a road test of a Lexus in Nansha. CHINA DAILY